Here you'll find information about the difference between public street areas and private property areas, town markets and public squares, and who's in charge of the different car parks in Lund.
What's the difference between public street areas and building plots?
Public street areas
Public street areas are owned and managed by the municipality of Lund, and include public areas such as streets and squares (Mårtenstorget, Clemenstorget, Stortorget, etc). Lund municipality is in charge of parking regulations and that the signage is correct. We at LKP (Lund's communal parking) have the assignment to monitor these areas and make sure that rules and regulations are followed.
In Lund we manage parking lots both within and outside of the city centre. Rules for each specific area describe where and when parking is allowed.
Disabled individuals and professionals that need to have close access to work equipment in their cars, are entitled a special parking permit. You can apply for a special parking permit at the Technical administration at the municipality of Lund. Visit the public website, lund.se, for more information.
Building plots
Building plots refer to private land, where the landowner sets up the parking rules. The landowner is also responsible for correct signage and must supply information signs showing which parking company manages the parking. Car parks owned and managed by LKP are considered building plots, but we also manage other property areas on behalf of the landowner. For example, car parks next to buildings belonging to Lund's public housing, or car parks owned by a store.
Using efficient lamps, large and airy openings, we continuously work to improve safety in our car parks. The parking spaces are frequently checked and monitored by security companies as well as our own parking attendants. To further improve safety, some of our parking garages are also equipped with surveillance cameras.
---
Town markets and public squares
The public squares of Lund welcome a vivid city life and are open for town markets at the following hours:
Mårtenstorget

Workdays Monday–Friday + Saturday
There are two bollard-marked areas designated for town markets; the area next to the Market hall is available 06.30–16.00, and the other 06.30–14.00
At Mårtenstorget you can apply for a one-year contract of a market space. The cost is invoiced three times a year and the notice period is three months. Here you can apply for a one-year contract at Mårtenstorget.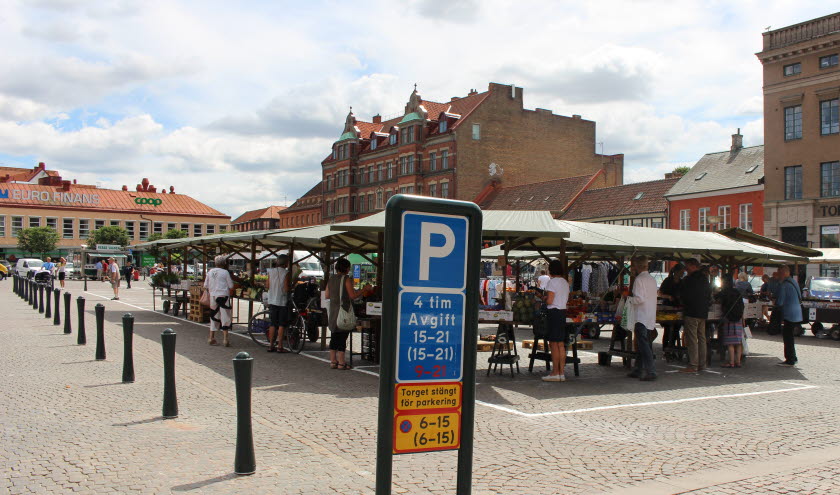 Clemenstorget
Workdays Monday–Friday + Saturday, 08.00–18.00
Fäladstorget
Workdays Monday–Friday + Saturday, 06.30–17.00
Dalby
Workdays Monday–Friday + Saturday, 06.30–17.00
You can rent a market space on a monthly basis at all town squares. Are you looking for a temporary space, we recommend that you contact the town market host in advance. The host will then assign the market spaces according to the arrival of the vendors (at 08.00 at the latest, and 09.00 in winter time).
At Mårtenstorget you can borrow tables and benches, but you need to bring your own equipment to the other locations.
For further information, contact the LKP town market host on 070-823 24 53, Monday–Friday at 08.00–12.00. You'll also find more information regarding costs and general terms on the Lund municipality, see links below.